A young Nigerian lady has taken to social media to proudly show off her Caucasian husband, sparking a huge buzz on the internet.
The woman posted a video compilation featuring clips from their wedding, loved-up pictures and videos of them, along with photos of her octogenarian husband.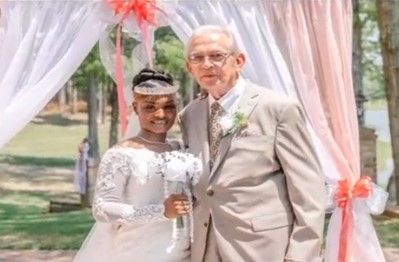 Gushing over the love of her life, the lady stated that she would cherish him for the rest of her life.
"My mans 4LLLLLLLLLL," she captioned the video.
The video has set tongues wagging on the internet, with many questioning the lady's motive for marrying the elderly man.
Read some comments as you scroll,
@annegodonou wrote, "When the caretaker decide to become the wife! She is smart!
"
@olaadedayodutch wrote, "This when you go to Europe using the Mediterranean sea, visit, tourist, business, student visa with the intention to stay and when you are not granted asylum or residence permit then people starts looking for alternative like this . Good luck to her ."
@riverwun350 wrote, "I dont care what anyone says. Shes just waiting for him to die so that she takes all the houses and money then go be with that young black goon lol"

@boli_et_al wrote, "He sure needs her more than she needs him. Her love, care and affection will go a long way for him at this stage of his life, he doesn't have anything to lose. I commend her effort, it's better than his kids dumping him in a care home, with her, he gets real care while he lives."
Watch the clip below,
READ: Privacy Policy